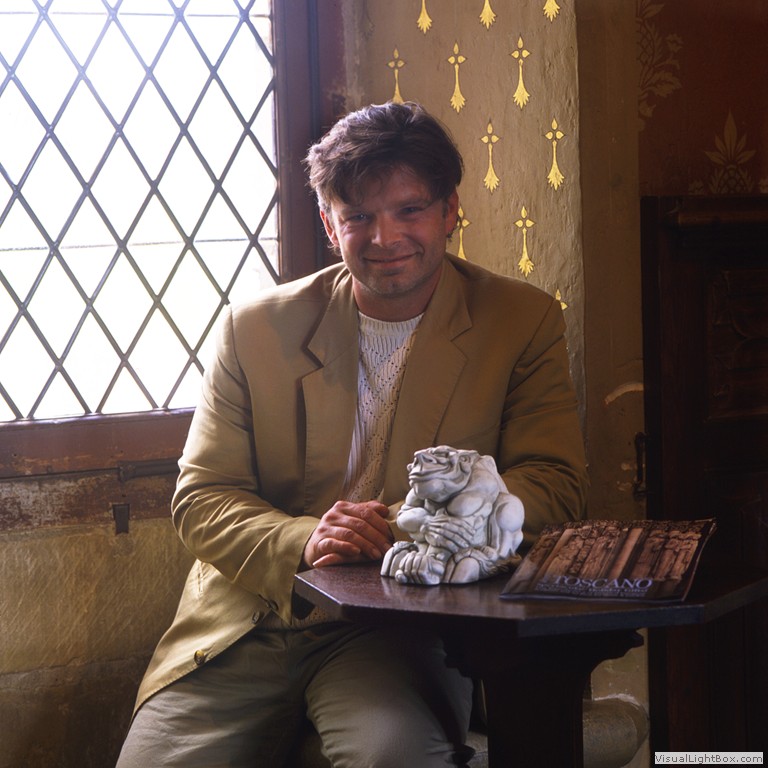 Miserai was the home of sculptor Frederic Levesque (1960 – 2010) where he spent most of his life. You can visit the art gallery where his pieces are showcased on the mezzanine floor of the barn for you to discover, admire and enjoy his creative genius.
Mr. Steve Pseno, creative director for Design Toscano of Chicago said: "He was the first artist Design Toscano partnered with to create unique statues. His "Winston" and "Feast on Fools" gargoyles helped garner attention for Toscano, leading to a mention in Time magazine.
Known for his imaginative, Gothic fairy tale sculptures, Frederic first exhibited at the Grand Palais in 1987. A graduate of the highly regarded école Des Beaux-Arts in Paris, whose esteemed graduates include Degas, Delacroix, Fragonard, Ingres, Monet, Moreau, Renoir, Seurat, and Sisley, Levesque went on to become famous worldwide for his work as an illustrator and avant-garde sculptor.
Levesque's work showed his love for his native region of Normandy, but he also brought in worldwide themes, making his work universal. He brought in themes from all over art history, from the Middle Ages and 18th-century French fairy tales to French film spoofs. He also created parodies of various works of motion picture art, including Georges Melies' A trip to the Moon (1902) and W. Murnau's Nosferatu (1922). Frederic created more than 200 truly unique works of art, from a submarine engulfed by a giant squid and an actual smoke-breathing dragon called Bessemer to an alligator lunching on his caretaker. His designs were done in a style that was truly Frederic: proportionally exaggerated and comically robust. "He was truly one of a kind."
And then came the Gargoyles, a little bit of toad slime, some salamander powder, an ounce of plaster and you have Frederic Levesque's gargoyles. Monsters, half devil, half beast, these chimeras are worked to the smallest details with incredible patience to characterize complex  dreams. They arouse our imaginations and remind us of our legends.